Edited by Sam Burnside, published by Holiday Projects West, Londonderry, 1988.
The recent 'Brexit' negotiations over the issue of the land border between Northern Ireland and the Republic of Ireland have made me think about my two visits to the island as an adult, in 1988 and 1990, a decade before the Belfast talks led to the 'Good Friday Agreement'. I had been to Dublin with my family in the early sixties, but recalled little of that experience, except that it must have been before 1966, as we climbed Nelson's Column in the city centre before the IRA blew it up to 'commemorate' the fiftieth anniversary of the Easter Rising. I had never visited Northern Ireland, however.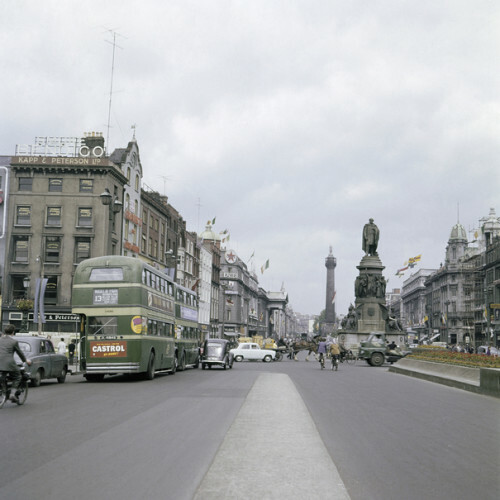 Nelson's Column in the centre of Dublin in 1961.
A Journey to Derry & Corrymeela, June 1988:

In June 1988, while working for the Quakers in Selly Oak, Birmingham, I drove a group of students from Westhill College to Corrymeela, a retreat and reconciliation centre in the North. We drove to Belfast, being stopped by army blockades and visiting the Shankill and the Falls Road, witnessing the murals and the coloured curb-stones. Political violence in Belfast had largely been confined to the confrontation lines where working-class unionist districts, such as the Shankill, and working-class nationalist areas, such as the Falls, Ardoyne and New Lodge, border directly on one another (see the map below). We also visited Derry/ Londonderry, with its wall proclaiming 'You are now entering Free Derry', and with its garrisons protected by barbed wire and soldiers on patrol with automatic rifles. Then we crossed the western border into Donegal, gazing upon its green fields and small hills.

My Birmingham colleague, a Presbyterian minister and the son of a 'B Special' police officer, was from a small village on the shores of Lough Neagh north of Belfast. So while he visited his family home there, I was deputed to drive the students around, guided by Jerry Tyrrell from the Ulster Quaker Peace Education Project. He described himself as a 'full-time Peace worker' and a 'part-time navigator'. I had already met him in Birmingham, where I was also running a Peace Education Project for the Quakers in the West Midlands. He was born in London but had come to live in Derry in 1972, where he had worked on holiday projects for groups of mixed Catholic and Protestant students. It provided opportunities for them to meet and learn together during organised holidays, work camps and other activities. He had left this in April 1988 to take up a post running a Peace Education Project at Magee College.

Magee College, Londonderry.
Jerry gave me a copy of a slim volume entitled Borderlines: A Collection of New Writing from the North West, containing prose and poems by members of the Writers' Workshop based at Magee College, including some of his own poetry. The Workshop promoted and encouraged new writing in the North-west, and acted as a forum for a large number of local writers. In his preface, Frank McGuinness wrote of how …
… freedom is full of contradictions, arguments, the joy of diversity, the recognition and celebration of differences.
After reading the collection, I agreed with him that the collection contained that diversity and that it stood testimony to the writers' experiences and histories, their fantasies and dreams. Its contributors came from both sides of the Derry-Donegal border we had driven over, and from both sides of the Foyle, a river of considerable beauty which, in its meandering journey from the Sperrins to the Atlantic, assumes on its path through Derry a socio-political importance in symbolising the differences within the City. However, in his introduction to the collection, Sam Burnside, an award-winning poet born in County Antrim, but living in Derry, wrote of how …
… the borders which give definition to the heart of this collection are not geographical, nor are they overtly social or political; while … embedded in time and place, they are concerned to explore emotional and moral states, and the barriers they articulate are … those internal to the individual, and no less detrimental to freedom for that.

If borders indicate actual lines of demarcation between places and … powers, they suggest also the possibility of those barriers being crossed, of change, of development, from one state to another. And a border, while it is the mark which distinguishes and maintains a division, is also the point at which the essence of real or assumed differences are made to reveal themselves; the point at which they may be forced to examine their own natures, for good or ill.

A page from an Oxford Bookworms' Reader for EFL students.
In the short story 'Blitzed' by Tessa Johnston, a native of Derry where she worked as a teacher, Kevin has moved, in a fictional future (in 1998), from Derry to Manchester, to escape from the troubles, but the report of a car-bombing by the Provisional IRA in Manchester brings back memories of his encounter with a soldier in Derry as a schoolboy, fifteen years old. On his way from his home in Donegal to the Grammar School in Derry, in the week before Christmas, he had been blinded by the snow so that he didn't see the soldier on patrol until he collided with him:
Over the years Kevin had grown accustomed to being stopped regularly on his way to and from school; to being stopped, questioned and searched, but never until that day had he experienced real hostility, been aware of such hatred. Spread-eagled against the wall he had been viciously and thoroughly searched. His school-bag had been ripped from his back and its contents strewn on the pavement; then, triumphantly, the soldier held aloft his bible, taunting him:

"So, you're a Christian, are you? You believe in all that rubbish? You wanna convert me? Wanna convert the heathen, Fenian scum? No?"

On and on he ranted and raved until Kevin wondered how much more of this treatment he could endure. Finally, his anger exhausted, he tossed the offending book into the gutter and in a last act of vandalism stamped heavily upon it with his sturdy Army boots, before turning up Bishop Street to continue his patrol.

With trembling hands Kevin began to gather up his scattered possessions. Then, like one sleep-walking, he continued his journey down Bishop Street. He had only gone a few steps when a shot rang out. Instinctively, he threw himself to the ground. Two more shots followed in quick succession, and then silence.

He struggled to his feet and there, not fifty yards away his tormentor lay spread-eagled in the snow. Rooted to the spot, Kevin viewed the soldier dis passionately. A child's toy, he thought, that's what he looks like. Motionless and quiet;

a broken toy …

Then the realisation dawned as he watched the ever-increasing pool of blood stain the new snow."
What haunted Kevin from that day, however, was not so much this picture of the dead soldier, but the sense that he himself had crossed an internal border. He had been glad when the soldier was shot and died; he had been unable to come to terms with the knowledge that he could feel like that. He had been unable to forgive not just the young soldier, but – perhaps worse – himself. The shadow of that day would never leave him, even after his family moved to Manchester. This had worked for a while, he'd married and had a child, and he had coped. But in the instant of the TV news report all that had been wiped out. The 'troubles' had found him again. They knew no borders.
Fortunately, this was a piece of fiction. Though there were thousands of deaths in Northern Ireland like that of the soldier throughout the troubles and bombings even after the PIRA cease-fire by the 'Real IRA', there was no renewal of the bombing campaigns on the mainland of Britain. But it could easily have been a real future for someone had it not been for the Good Friday Agreement.
An Easter 'Pilgrimage' to Dublin & Belfast, 1990:

The cover of the Longman 'Reader' I was given at the Dublin Conference of IATEFL.
My second visit to Ireland was at Easter 1990, shortly after moving to live and work in Hungary. I was going to attend two conferences, the IATEFL (International Association of Teachers of English as a Foreign Language) Conference which was being held in Dublin that year, and then on to Belfast to complete an unfinished project for the West Midlands' Quakers on 'Conflict and Reconciliation', a pack of materials we had trialled with Religious Education teachers in schools in Birmingham and Walsall through the Christian Education Movement (CEM). It was due to be published by them and sent to members throughout the UK, but first, we needed to share the 'community' materials with Religious Education teachers from both Catholic and State schools in the North, and integrate the materials they had trialled with ours.

My travelling companions on the first part of the journey from Bristol to Dublin were a Quaker teacher-trainer in English Language teaching and two Hungarian primary teachers of English, one of whom worked as a mentor for the teacher-training college where I had already started work in Kecskemét in February 1990. We got the ferry from Fishguard to Rosslare, near Cork, stopping for air on the road through the beloved Preseli mountains, where the Welsh pacifist poet Waldo Williams had written about the relationship between remembrance, the people and the landscape. By the time we got to the port, we had already crossed two borders, the one formed by the old Severn Bridge, and the still visible remains of the 'Landsker', the ancient division between Norman Wales (later known as 'little England beyond Wales', south Pembrokeshire) and Welsh-speaking Wales, stretching from the 'bluestone' outcrop hills of north Pembrokeshire through the fishing villages of Cardigan Bay. As a student in the late seventies, I had walked the entire length of the Pembrokeshire coast path down to St David's from here, and then from the south from St Govan's back to the Cathedral 'city'. On the northern coast, I had been able to practice my Welsh in the post office at Pwllderi.
On arriving in Rosslare, we got our passports out, thinking that there would be customs and border checks. My Hungarian colleagues expected to have to present theirs, as they did at every border, since Hungary had only just left the Warsaw Pact and Comecon, and it was to be another fourteen years before the newly-proclaimed republic was able to join the European Union. They, therefore, had travel visas stamped into their passports which bore the insignia and stamps of the 'People's Republic of Hungary' complete with stars and other Communist symbols. The USSR was still in existence and the Cold War had not yet come to an end. It almost didn't when the Soviet generals tried to seize power in a coup the following year. My father-in-law, a previously paid-up party member, was convinced that the Russians were coming back, a year after they'd left, and was ready to get out his little red book and service star again!
I had met these teachers for the first time two years earlier, at Easter 1988, at an International Teachers for Peace Conference in Bonn, when it became clear that Gorbachev's era of Glasnost was enabling teachers from 'the eastern bloc' to travel to the west and exchange ideas. Even so, I had turned down an invitation to visit East Germany (the DDR) the following year, preferring instead to set up an exchange with these teachers from Coventry's twin town of Kecskemét in Hungary, where there was evidence of more rapid change. One thing had led to another, and I had just married one of the teachers and moved to the town. But she was not with me on the trip to Ireland. We were all surprised, not only the Hungarians, that no-one asked to see our passports or question the gifts of salami and wine that we had brought with us to give to our hosts in Dublin. There wasn't even a border guard to wave us through!

I don't remember very much about the conference, apart from a rather good workshop on 'Story-telling' led by a Scottish teacher-trainer called Edie Garvie who had written a book called 'Story as Vehicle' which has continued to influence my methodology ever since. But I do remember, with great affection, the streets of Dublin, the pubs and theatres and Trinity College, where my father had trained for the Baptist ministry, based at Spurgeon's College nearby. That was when Eire was still a dominion of the British Commonwealth, so all my father had needed, even during the war when Ireland was neutral, was a National Registration card. He took us there as a family in the early sixties, and wanted to take us for a ride on the Dublin 'tram'. However, he was disappointed as by that time it had disappeared, to be replaced by distinctive green double-deckers. I remember joining a group of teenagers on the upper deck who were singing Beatles songs. Perhaps it was around the time they played their one concert in Dublin. In 2001, I took my own family back there to see the Book of Kells and to enjoy an Irish pub supper before boarding the ferry to Holyhead. In 1990, however, I caught a train from the station to Belfast on my own. The green and gold liveried Irish train crossed the border without stopping, the guard checking only our tickets.

Staying at Queen's University in Belfast, we visited Lisburn (about eight miles west of the city centre) the next day, where we met the Mayor and then saw lessons at the Friends' School, one of the few integrated schools in the province at that time. We were also taken inside the bombed-out shell of Lisburn's First Presbyterian Church where Rev. Gordon Gray was the minister, one of the sponsors of our programme. His three-hundred-year-old church was bombed twice in the 1980s by the Provisional Irish Republican Army (IRA). It was in the process of being rebuilt and renovated after the second devastating attack, but the scars left by the Provisional IRA were plain to see, and Gordon Gray spoke calmly but passionately about the impact of the recent bombing. He had seen friends die through violence, but spiritual strength had helped him to continue on in his ministry.
An extract from the Penguin Atlas of British & Irish History (2001)
Then it was down to business. Elsewhere in the UK, Peace Education was not particularly welcomed by local authorities, though Birmingham had its own advisor. It was certainly not welcomed by the Thatcher government, who did their best to have it proscribed. Where it existed elsewhere, it was funded by Quaker charities and individual subscriptions, as was the case with my job, or subsumed into 'World Studies' or 'Development Education'. But in Northern Ireland, it was supported by the UK government under the direct rule arrangements which existed before the Good Friday agreement. It was called 'Education for Mutual Understanding' (EMU) and funding was provided for projects like those being run by the group of local teachers and church leaders, in both Catholic and 'Protestant' state schools.
We had already hosted them in Birmingham, where the Inter-cultural Conflict and Reconciliation Programme (ICCARP) was founded under the auspices of the CEM. They had visited Handsworth and met our community workers, one black and one white, a policeman. Walking with them along the long main road through the district, I recognised their obvious unease as being similar to the way I had felt driving through the middle of Belfast and around the 'peace line' two years earlier. I remember asking the teachers about integrated education as a solution to overcoming the sectarian divide in education. The reply came that taking the churches out of secondary schools did not help bridge the divide since before young people could reach out across that divide, they had first to feel confident in their own faith traditions. This provided me with a valuable insight which I later applied to my work in Hungary, where the role of religion in schools had been suppressed for so long and RE outlawed. In Handsworth, they visited a Church of England primary school where three-quarters of the children were from Punjabi Sikh families. The parents told us that they had chosen to send their children to that oversubscribed school because of its religious foundation; because they knew that their children would receive religious education and grow up understanding Christian values.
Having concluded our proof-reading of the respective community case-based materials from the two regions, we broke up, and I returned to Birmingham via the Larne crossing to Stranraer. Again, there were no checks of any kind at the ports, no heavy-handed use of the Prevention of Terrorism Act provisions which my USI student friends had had to face in Liverpool on the way to NUS conferences at Blackpool in 1979-80. The CEM released the pack in August 1991, in time for its inclusion in school plans for the new academic year. By that time I had returned to the UK to train RE teachers in Birmingham, and I led a CEM workshop for them to try out some of the co-operative activities. By that time, our case study of Handsworth, based on the 1981 riots, was already out of date, so it was replaced with a case study on the stereotyping of Muslims in Derby.
The drive from Birmingham to Belfast is a long one, whichever route you take, but the inner, cultural journey is not so great. It is a worthwhile one, especially for someone who witnessed the 1974 Birmingham pub bombings at close hand. I could easily have been among those teenagers killed or seriously maimed that night, and the memory of it drives my determination to bring people together across cultural divides and borders. Religious traditions, be they Catholic, Presbyterian, Quaker, Baptist, Pentecostal, Sikh or Muslim are there for us to reach out from, in faith, not for us to retreat into, in fear. It is worth remembering Sam Burnside's comment that the most divisive borders are those which we draw within ourselves. Let's hope that doesn't happen again after thirty years of borders being brought down and/or crossed with ease.